Introduction to Stage 0 Restoration
October 22-24, 2019 Black Butte Ranch, Sisters, Oregon River Restoration North West & Portland State University Sponsored
---
Day 1
Stage 0: Genesis & Theory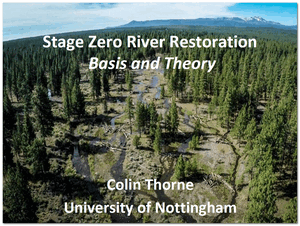 Colin Thorne got us started with an introduction to Stage Zero River Restoration: Basis & Theory.
Western Streams: Evidence for Stage 0 & Using Stream Evolution Model to guide restoration approaches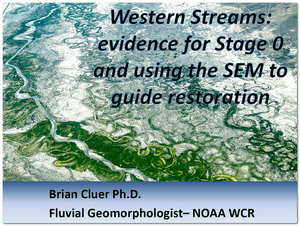 Next, Brian Cluer showed us some of the evidence for Stage 0 in riverscapes throughout the west.
Stage Zero Valley Types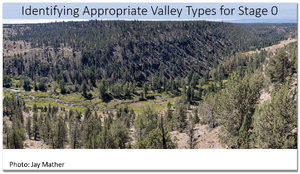 Paul Powers walked us through some ways of reading valley settings and riverscapes where Stage 0 may be appropriate.
Intorduction to Low-Tech Process-Based Restoration to Stage 0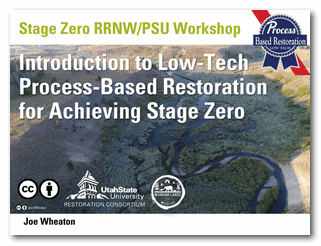 Joe Wheaton gave us an overview of Low-Tech Process-Based Restoration and how it is used to achieve Stage 0.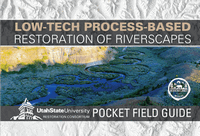 This talk is elaborated in Chapter 1 & Chapter 2 of design manual. We also handed out a Pocket Guide.
AFTERNOON: Wychus - Camp Polk Field Visit & Low-Tech Construction Intro
---
Day 2 - Field Trip to South Fork McKenzie River
We started out with a presentation from Kate Meyer on Stage 0 Restoration in the South Fork McKenzie River, before trekking out into the wonderful mess.
Example of Vision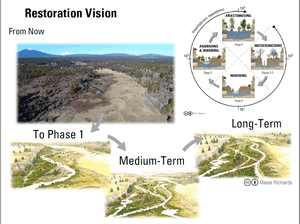 An example from Wychus Creek to elaborate on concepts covered in design talk and show examples of:
Vision for Phased Implementation
Simple Indicators for Monitoring
Concept of Overlapping Complex Zones of Influence
https://s3-us-west-2.amazonaws.com/etalweb.joewheaton.org/Workshops/Stage0/2019/Slides/2019_PSU_Wheaton_LTPBR_Whychus.pdf
https://s3-us-west-2.amazonaws.com/etalweb.joewheaton.org/Workshops/Stage0/2019/Slides/Design+Exercise+with+Staley+Creek%2C+Class+Exercise+2.pdf
https://s3-us-west-2.amazonaws.com/etalweb.joewheaton.org/Workshops/Stage0/2019/Slides/Floodplain+Evaluation+Tools+-+June+4+2019.pdf
https://s3-us-west-2.amazonaws.com/etalweb.joewheaton.org/Workshops/Stage0/2019/Slides/Stage0GeomorphicAnalysisandExamples.pdf
https://s3-us-west-2.amazonaws.com/etalweb.joewheaton.org/Workshops/Stage0/2019/Slides/Thorne_Benefits+and+Risks+of+Restoration+to+Stage+Zero.pdf
https://s3-us-west-2.amazonaws.com/etalweb.joewheaton.org/Workshops/Stage0/2019/Slides/Thorne_Stage+0+Monitoring%2C+Permitting+and+Adaptive+Management.pdf
---
Day 3 - Building Low-Tech Restoration Structures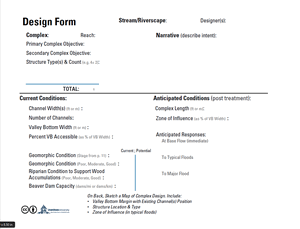 Wychus Findings
---
Instruction Team
---
References
Stage Zero
In Support of Stage Zero
Walter, R.C. and Merritts, D.J., 2008. Natural streams and the legacy of water-powered mills. Science, 319(5861): 299-304

Hauer, F.R., Locke, H., Dreitz, V.J., Hebblewhite, M., Lowe, W.H., Muhlfeld, C.C., Nelson, C.R., Proctor, M.F. and Rood, S.B., 2016. Gravel-bed river floodplains are the ecological nexus of glaciated mountain landscapes. Science Advances, 2(6): e1600026. DOI: 10.1126/sciadv.1600026
Geomorphic Grade Line
Other Supporting Restoration / Conservation Papers
Stage 0 in UK
Thorne, C.R., Hardwick, M., Winfield, P. and Oliver, C., Design of an environmentally aligned flood alleviation scheme: the Burn of Mosset, Moray, Scotland, Flood Risk, pp. 339-360. DOI: 10.1680/fr.41561.339
Low-Tech Process-Based Restoration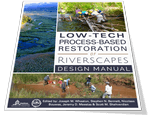 Some Science in Support of Low-Tech PBR
---