Overview of Spring 2023 Offerings
All of our six popular LTPBR courses are being offered as 1 credit (1.5 CEU) courses offered in series over Spring Semester. Matriculated students register in banner.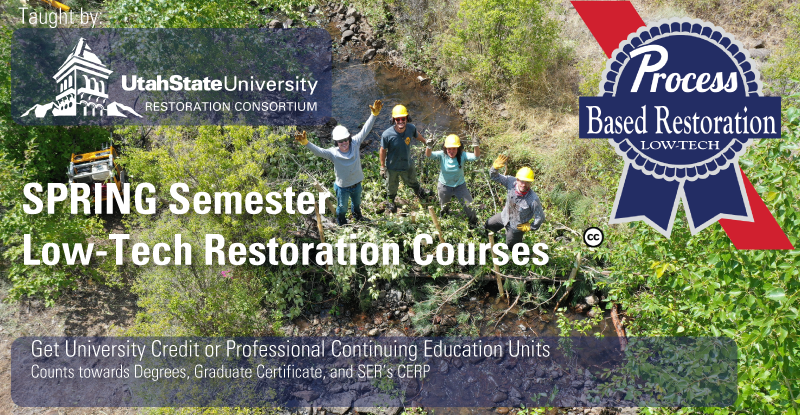 For Matriculated Students
Registration opens in Banner mid November
Click on course titles for syllabi.
For Professionals
Non-matriculated students can take the classes for a direct fee through our Continuing Education Unit system. Registration is now closed for 2023 courses.
| Course # | Course Title | Registration Cost & Link | CRN |
| --- | --- | --- | --- |
| CEWA 5620 | Introduction to Low-Tech Process-Based Restoration of Riverscapes | $315 | 16733 |
| CEWA 5621 | Science & Case Studies of Low-Tech Process-Based Restoration of Riverscapes | $315 Register | 16791 |
| CEWA 5622 | Planning to Low-Tech Process-Based Restoration of Riverscapes | $315 | 16792 |
| CEWA 5623 | Design to Low-Tech Process-Based Restoration of Riverscapes | $315 | 16794 |
| CEWA 5624 | Implementing of Low-Tech Process-Based Restoration of Riverscapes | $415 | 16734 |
| CEWA 5625 | Adaptive Management of Low-Tech Process-Based Restoration of Riverscapes | $315 | 16735 |
Back to LTPBR Courses for University Credit or Professional CEU