Formats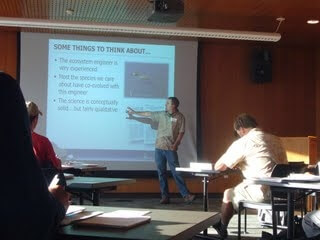 We have taught over 20 workshops, short-courses and full semester long classes since 2010 on low-tech process-based restoration (see table below). There are a variety of ways in which we have offered this training:
University courses through Utah State University Department of Watershed Sciences for matriculated graudate students (e.g. WATS 5620, 5621, 5622, 5623, 5624, 6900, 6860) or professionals as continuing education units (CEUs; e.g. CEWA 5620, 5621, 5622, 5623, 5624, 6900 ) - tuition fee charged per unit
Short courses & workshops open to public enrollment administered through Utah State University Restoration Consortium - workshop fee charged
Custom short course for private audience - Virtual Workshops ([e.g. WLFW 2020]](/workshops/2020/SGI)) and In-Person Workshops (paid for by workshop sponsor(s))
Self-Paced Modules - Free
Note that Undergraduates in the Department of Watershed Sciences Management and Restoration of Aquatic Ecosystems Major get a full year of training on low-tech process-based restoration in the Capstone Classes (WATS 5340 & 5350).

---
Workshops & Short-Courses
University Courses on LTPBR
See our University courses for a full listing.
LTPBR Courses For University Credit or Professional CEU
---
Public Enrollment Workshops
---
Custom Private Workshops
| Year | Workshop | Location(s) | Sponsor(s) |
| --- | --- | --- | --- |
| 2022, August 9-11 | Montana-Dakotas Bureau of Land Management - LTPBR of Riverscapes Workshop | Miles City, MT | BLM Montana-Dakotas |
| 2022, March 2 | American Fisheries Society Virtual Workshop: Low-Tech Process-Based Restoration of Riverscapes | virtual | American Fisheries Society, USFWS Partners for Fish & Wildlife, Pheasants Forever, Conservation Northwest,USDA, Anabranch Solutions |
| 2021, October 12 & 13 | Klickitat River Watershed Intro to Low-Tech Process-Based Restoration of Riverscapes - Field-Based Workshop | Tepee Creek, WA |   |
| 2021, September 29 & 30 | Foster Creek Low-Tech Process-Based Restoration of Riverscapes-Field-based Workshop | Bridgeport, WA | Foster Creek Conservation District, USFWS Partners for Fish & Wildlife, Pheasants Forever, Conservation Northwest,USDA, Anabranch Solutions |
| 2021, (rescheduled) | Klickitat River Watershed Intro to Low-Tech Process-Based Restoration of Riverscapes - Field-Based Workshop | Tepee Creek, WA | Yakama Nation Fisheries, Anabranch Solutions |
| 2019, August | Low-Tech Riparian Restoration - 2019 Field Workshop Series | Gunnison, CO; Lewistown, MT; Hailey, ID | NRCS, WLFW, Pheasants Forever, SGI, and USU Restoration Consortium |
| 2018, June - Sept | Partnering with Beaver in Restoration Design - 2018 Field Workshop Series | Logan, UT; Elko, NV; Lander, WY; Cedar City, UT; Hailey, ID | NRCS, WLFW, Pheasants Forever, SGI, and USU Restoration Consortium |
| 2017, October | Partnering with Beaver in Restoration Design | Enterprise, OR | Grand Ronde Model Watershed |
| 2016, October | Cheap and Cheerful Restoration Design | Dayton, WA | Snake River Salmon Recovery Board |
| 2016, October | Beaver Restoration Class | Kingfield, Maine | US Fish & Wildlife Service |
| 2016, Sept | Partnering with Beaver in Restoration Design | Logan ,UT | Sage Grouse Initiative, Pheasants Forever & NRCS |
| 2014, October | Partnering with Beaver in Restoration | Chilloquin, OR | Klamath Watershed Council |
| 2013, Aug | Working with Beaver in Restoration | Logan ,UT | Utah NRCS |
| 2012, Oct | Partnering with Beaver in Restoration | Logan, UT | Utah Watersheds Coordinating Council |
---
Workshop Locations
In addition to teaching these workshops at the Utah State University campus in Logan, we have taught LTPBR workshops in a vareity of locations: