Beyond the LTPBR Explorer, here are a vareity of videos, social media posts and stories. We post these as we become aware of them (in no particular order). If you have or know of a story you would like to see linked here, please let us know.
LTPBR on Video and Social Media
From BLM - Idaho
Hawley Creek, Idaho
This incredible partnership project on Hawley Creek, Idaho was put together by participants in an early LTPBR workshop, who really undrstood the restoration principle of "strength in numbers". We often show this drone video from the project when illustrating this principle as it is just long enough (in a good way) to get boring:
Learn more about the project in this story and this video below:
From the USFWS - California
Doty Ravine
Our LTPBR US Fish and Wildlife Service partners Jared McKee and Damion Ciotti's work on Doty Creek at the Doty Ravine Preserve.
See slides below for information on the design.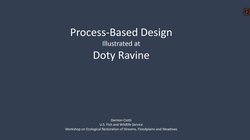 See their slides on 'Embracing Chaos' at right for some insights into what happened.
Album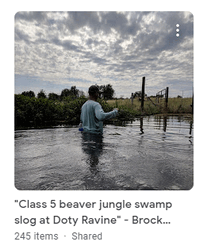 Videos & Social Media
See the video below for beaver taking over at Doty:
Stream #restoration with a beaver dam analogue provides #habitat during the heat of the #summer and helps to activate the #floodplain and recharge #groundwater during winter storms. Look closely- we had some visitors! 😮🐦😸

📷: Jared McKee, USFWS#R8HabitatRestoration pic.twitter.com/lYU7AtjEWi

— US Fish and Wildlife, Pacific Southwest Region (@USFWS_PSW) April 5, 2018
From USU Restoration Consortium
Join @JayWilde3 and our own @fluvialwheaton on a virtual field trip of a successful #LTPBR beaver project on #RealBirchCreek. As a follow up to the success of the #LTPBR virtual workshop, we will continue to trickle out additional resources. https://t.co/ltMdlsxLJq pic.twitter.com/r1PsymAF1v

— Restoration Consortium USU (@RestorationUSU) September 18, 2020
From Sage Grouse Initiative
Check out this cool drone footage from a recent workshop on low-tech process-based restoration for streams led by SGI's Jeremy Maestas. Over time, the green zone will expand to provide forage for sage grouse and other critters. Footage: Dallas Reed, Yakama Nation Fisheries pic.twitter.com/vYZpA1z5bX

— SageGrouseInitiative (@SageGrouseInit) July 31, 2019
From Big Hole Watershed Committee
From Anabranch Solutions
Check out this new paper with our own Nick Weber as a co-author. 'Short-Term Stream and Riparian Responses to Beaver Dam Analogs on a Low-Gradient Channel Lacking Woody Riparian Vegetation' https://t.co/EAoN12hG04

One year progression in photo below: pic.twitter.com/BaOIG0H90m

— Anabranch Solutions (@AnabranchS) February 13, 2020
Anabranch had a great time last week partnering with OSU Cascades field ecology students and the Mid-John Day - Bridge Creek Watershed Council building restoration structures to improve juvenile Steelhead habitat in Oregon's high desert. https://t.co/oxk2Z4aXjE pic.twitter.com/E8Kv4vF82i

— Anabranch Solutions (@AnabranchS) September 18, 2019
Another article on a fun #lowtechPBR project: 'Beaver dams' built to help restore burned area https://t.co/ZwcLVAP16m via @IdahoMtExpress

— Anabranch Solutions (@AnabranchS) May 21, 2019
From The Sierra Fund
---