Chapter 6: Low-Tech Restoration Project Implementation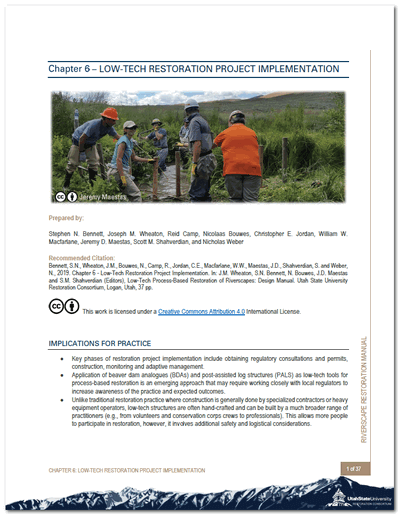 The sixth chapter is targeted at practitioners responsible for implementing low-tech process-based restoration projects. We focus on the three primary components of implementation and cover the following topics:
Consultation and Permitting
Construction

Building Materials for Low-Tech Structures
Tools & Equipment for Building Low-Tech Structures
General Construction Guidance

Evaluation
Chapter 6 also has appendices on:
Appendix A: Post Driver Information
Appendix B: Wood Replenishment with Griphoists

Full PDF available for free at ResearchGate, but ResearchGate requires a free account.
Implications for Practice
Key phases of restoration project implementation include obtaining regulatory consultations and permits, construction, monitoring and adaptive management.
Application of beaver dam analogues (BDAs) and post-assisted log structures (PALS) as low-tech tools for process-based restoration is an emerging approach that may require working closely with local regulators to increase awareness of the practice and expected outcomes.
Unlike traditional restoration practice where construction is generally done by specialized contractors or heavy equipment operators, low-tech structures are often hand-crafted and can be built by a much broader range of practitioners (e.g., from volunteers and conservation corps crews to professionals). This allows more people to participate in restoration, however, it involves additional safety and logistical considerations.
Recommended Citation
Bennett, S.N., Wheaton, J.M., Bouwes, N., Camp, R., Jordan, C.E., Macfarlane, W.W., Maestas, J.D., Shahverdian, S. and Weber, N. 2019. Chapter 6 - Low-Tech Restoration Project Implementation. In: J.M. Wheaton, S.N. Bennett, N. Bouwes, J.D. Maestas and S.M. Shahverdian (Editors), Low-Tech Process-Based Restoration of Riverscapes: Design Manual. Utah State University Wheaton Restoration Consortium, Logan, Utah. 38 pp. DOI: 10.13140/RG.2.2.25043.22567
---
Related Resources

Low-Tech PBR Recipes
Low-Tech PBR Contractors
---