Chapter 4: Mimicking and Promoting Wood Accumulation and Beaver Dam Activity with Post-Assisted Log Structures and Beaver Dam Analogues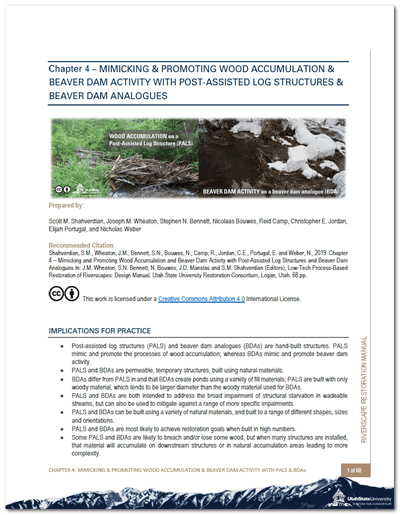 The fourth chapter is meant to be the authoritative reference on two low-tech restoration techniques, which are lacking guidelines in the literature: post-assisted log structures (PALS) & beaver dam analogues (BDAs). The chapter focuses on helping readers understand what PALS & BDAs are, how they are used in low-tech restoration design, and a specific focus on the processes intially mimicked, later promoted, and that eventually become self-sustatining; namely wood accumulation and beaver dam activity.
Chapter 4 also has appendices on:
Appendix A. Freqently Asked Questions About PALS and BDAs
Appendix B: Low-Tech Process-Based Restoration Semantics
Appendix C: Recent History of Beaver Dam Analogues
Appendix D: Typical Schematics and General Suggestions for Placement and Construction of PALS
Appendix E: Typical Schematics and General Suggestions for Placement and Construction of BDAs

Full PDF available for free at ResearchGate, but ResearchGate requires a free account.
Implications for Practice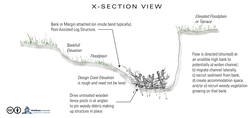 Post-assisted log structures (PALS) and beaver dam analogues (BDAs) are hand-built structures. PALS mimic and promote the processes of wood accumulation; whereas BDAs mimic and promote beaver dam activity.
PALS and BDAs are permeable, temporary structures, built using natural materials.
BDAs differ from PALS in and that BDAs create ponds using a variety of fill materials; PALS are built with only woody material, which tends to be larger diameter than the woody material used for BDAs.

PALS and BDAs are both intended to address the broad impairment of structural starvation in wadeable streams, but can also be used to mitigate against a range of more specific impairments.
PALS and BDAs can be built using a variety of natural materials, and built to a range of different shapes, sizes and orientations.
PALS and BDAs are most likely to achieve restoration goals when built in high numbers.
Some PALS and BDAs are likely to breach and/or lose some wood, but when many structures are installed, that material will accumulate on downstream structures or in natural accumulation areas leading to more complexity.
Recommended Citation
Shahverdian, S.M., Wheaton, J.M., Bennett, S.N., Bouwes, N., Camp, R., Jordan, C.E., Portugal, E. and Weber, N. 2019. Chapter 4 – Mimicking and Promoting Wood Accumulation and Beaver Dam Activity with Post-Assisted Log Structures and Beaver Dam Analogues. In: J.M. Wheaton, S.N. Bennett, N. Bouwes, J.D. Maestas and S.M. Shahverdian (Editors), Low-Tech Process-Based Restoration of Riverscapes: Design Manual. Utah State University Wheaton Restoration Consortium, Logan, Utah. 66 pp. DOI 10.13140/RG.2.2.22526.64324
---
Related Resources
Chapter Four Figures
All original figures downloadable and citeable now with DOI: 10.6084/m9.figshare.14445519.v1
Appendix C
All figures downloadable and citeable now with DOI: 10.6084/m9.figshare.14445540
Appendix D - Typical Schematics and General Suggestions for Placement and Construction of PALS
All figures downloadable and citeable now with DOI: 10.6084/m9.figshare.14445564.v1
Appendix E - Typical Schematics and General Suggestions for Placement and Construction of BDAs
All figures downloadable and citeable now with DOI: 10.6084/m9.figshare.14445567.v1
---