Chapter 1: Background & Purpose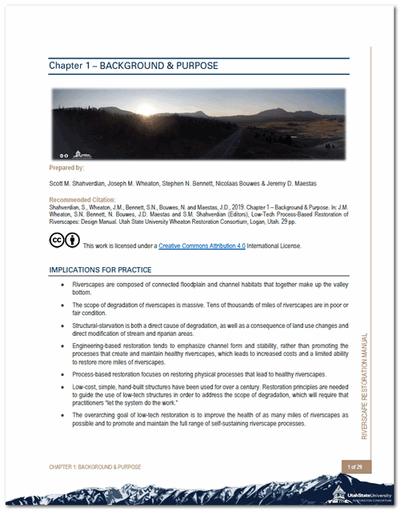 The first chapter lays out the purpose and organization of the manual. It also covers the background necessary to understand low-tech process-based restoration. Speifically, the following topics are covered:
Scope of Degradation
Structurally-Starved Riverscapes
Riverscapes States and Conditions
A Review of Restoration
Chapter 1 also has appendices on:
Appendix A: Partial Selection of Past Literature Relevant to Low-Tech Restoraton
Appendix B: Low-Tech Process-Based Restoration Semantics
Appendix C: Existing Low-Tech Practices
Appendix D: Nothing is Really New
Appendix E: River Health Analogy

Full PDF available for free at ResearchGate, but ResearchGate requires a free account.
Implications for Practice
Riverscapes are composed of connected floodplain and channel habitats that together make up the valley bottom.
The scope of degradation of riverscapes is massive. Tens of thousands of miles of riverscapes are in poor or fair condition.
Structural-starvation is both a direct cause of degradation, as well as a consequence of land use changes and direct modification of stream and riparian areas.
Engineering-based restoration tends to emphasize channel form and stability, rather than promoting the processes that create and maintain healthy riverscapes, which leads to increased costs and a limited ability to restore more miles of riverscapes.
Process-based restoration focuses on restoring physical processes that lead to healthy riverscapes.
Low-cost, simple, hand-built structures have been used for over a century. Restoration principles are needed to guide the use of low-tech structures in order to address the scope of degradation, which will require that practitioners "let the system do the work."
The overarching goal of low-tech restoration is to improve the health of as many miles of riverscapes as possible and to promote and maintain the full range of self-sustaining riverscape processes.
Recommended Chapter Citation
Shahverdian, S., Wheaton, Shahverdian, S., Wheaton, J.M., Bennett, S.N., Bouwes, N. and Maestas, J.D., 2019. Chapter 1 – Background & Purpose. In: J.M. Wheaton, S.N. Bennett, N. Bouwes, J.D. Maestas and S.M. Shahverdian (Editors), Low-Tech Process-Based Restoration of Riverscapes: Design Manual. Utah State University Wheaton Restoration Consortium, Logan, Utah. 29 pp. DOI: 10.13140/RG.2.2.14138.03529
---
Related Resources
Chapter One Figures
All original figures downloadable and citeable now with DOI: 10.6084/m9.figshare.14515461.v3.
Note: Figures 1.2 and 1.5 were modified to correct some minor typos and terminology inconsistencies.
PBR Literature
Perhaps the two most definitive resources on Process-Based Restoration for riverscapes have been Beechie et al. (2010) and Roni & Beechie (2013). Please also see Appendix A.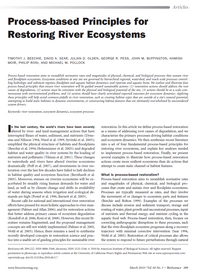 Beechie T, Sear DA, Olden JD, Pess GR, Buffington JM, Moir H, Roni P and Pollock MM. 2010.
Process-based principles for river restoration
. Bioscience. 60(3): 209-222. DOI:
10.1525/bio.2010.60.3.7
Roni P and Beechie T (Eds). 2013. Stream and Watershed Restoration: A Guide to Restoring Riverine Processes and Habitats. Wiley: Chichester, U.K., 300 pp. DOI:
10.1002/9781118406618
---