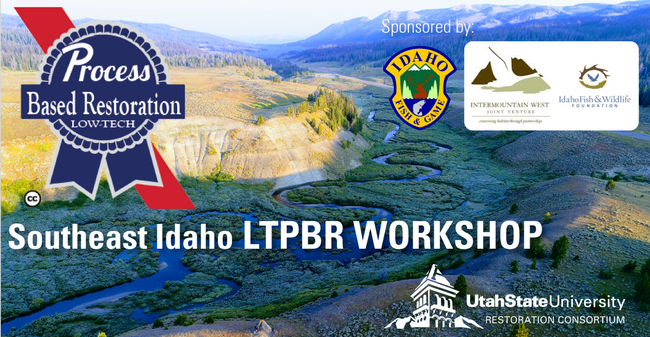 August 25-27, 2020 in Pocatello, Idaho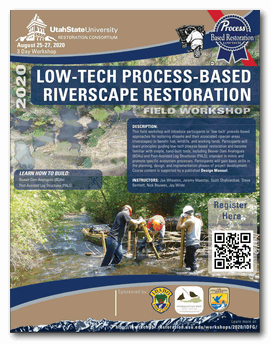 This invitation only short-course, hosted by Utah State University Restoration Consortium, will bring together IDFG, USFWS, BLM and other partners interested in low-tech alternatives for restoring streams and associated riparian and mesic habitats to benefit wildlife and working lands in southeastern Idaho.
In this 3 day workshop, participants will be introduced to 'low-tech' process-based approaches for restoring streams and their associated riparian areas (riverscapes) to benefit fish, wildlife, and working lands. Participants will learn principles guiding low-tech process-based restoration and become familiar with simple, hand-built tools, including Beaver Dam Analogues (BDAs) and Post-Assisted Log Structures (PALS), intended to mimic and promote specific ecosystem processes. Participants will gain basic skills in the planning, design, and implementation phases of project development. Course content is supported by a published Design Manual.
Support
Thanks to the generosity of Working Lands for Wildlife, we can offer these contingency plans for free. Thanks to the leadership and support of Idaho Department of Fish & Game, Idaho Fish & Wildlife Foundation, and the Intermountain West Joint Venture, this workshop is also offered for free to invited participants.
2020 Context
With COVID-19, we have all had to make adjustments to how we work. This workshop was originally scheduled for June and was moved to August. We had to cancel another workshop series for Working Lands for Wildlife and shift to a virtual format delivery. However, given that the audience for this workshop is from a smaller region (southeast Idaho), it is a smaller group (< 35) and we can put in place some mitigations to help keep everyone socially distanced and safe for both classroom and field days, we have decided to proceed. Our plan is contingent on the State of Idaho's Covid-19 Stages of Reopening. If:
Course Materials
Slides & Handouts
Workshop Textbooks
For the workshops, we will rely on the new Design Manual and the Pocket Guide, which are both available free digitally. Extra print copies of manual are available for ~ $60 on Amazon and waterproof versions of the pocket guide can be purchased here.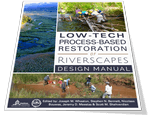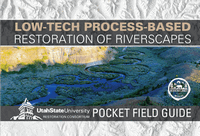 Wheaton JM, Wheaton A, Maestas J, Bennett S, Bouwes N, Shahveridan S, Camp R, Jordan C, Macfarlane W, Portugal E, Weber N. 2019. Low-Tech Process-Based Restoration of Riverscapes: Pocket Field Guide. Utah State University Restoration Consortium. DOI: 10.13140/RG.2.2.28222.13123/1.
---
Instruction Team
Instructor Affiliations
---